QRCA's Third Thursday Digital Demo (TTDD)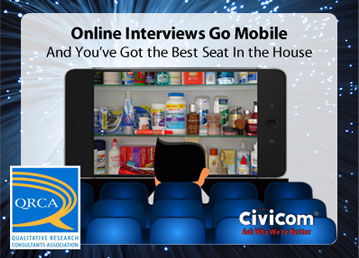 Join Us!

Online Interviews Go Mobile
And You've Got the Best Seat In the House

Date: Thursday, July, 17 2014
Time: 12:00 PM - 1:00 PM EST
Platform: Civicom Front Row
Amy Savin and Regina Szyszkiewicz, co-chairs of the QRCA Online SIG, will host Jack Campisi, Sr. Account Manager at Civicom, who will provide an overview of Front Row, their mobile, online interviewing platform.

Front Row enables you to conduct live, two-way remote interviews from a mobile device (Tablet or Smart Phone). Now you can accompany a respondent to their kitchen, bathroom, bedroom or garage and conduct an in-depth conversation with them while they are directly engaged in an activity.

You've got the best seat in the house without ever leaving your desk. This session will highlight the key features, application and benefits of the service.

After registering you will receive a confirmation email containing information about joining the webinar.